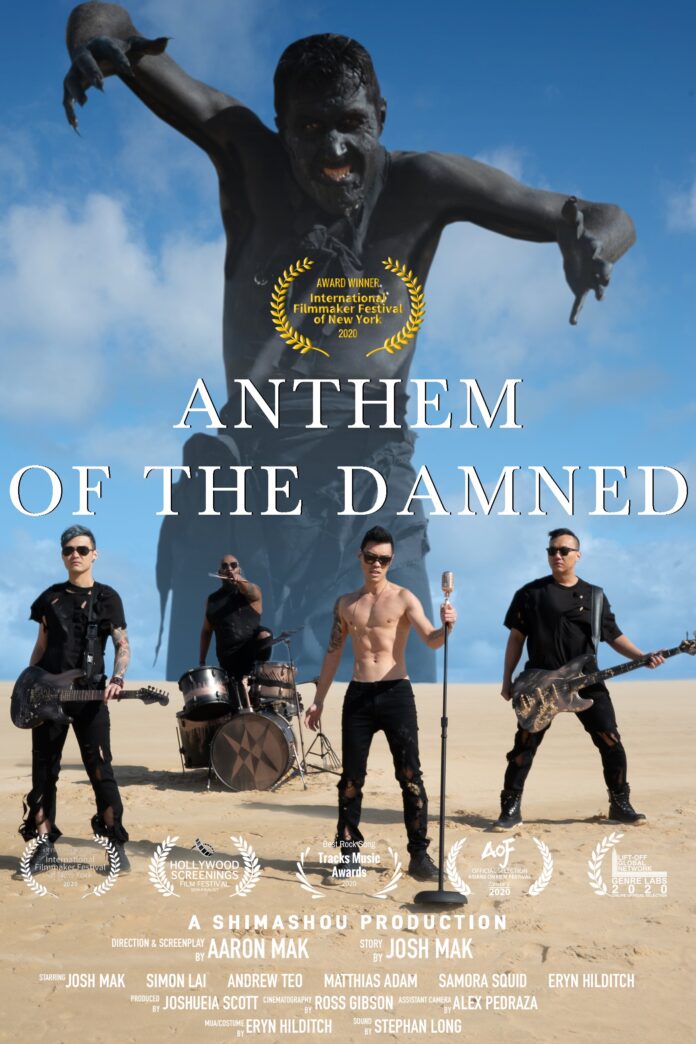 It is the holy trinity of cinema: to write, direct and star in a film. Aaron Mak is among the creative artists with multiple talents. Throughout his successful career Aaron has pursued multiple creative interests. His visionary ideas be it directing films or music videos are more than an artform; they are very philosophical and thought-provoking.
Notable Director, Writer, Actor, and Producer Aaron Mak was born in Singapore, and migrated to Melbourne, Australia at the age of 10. He studied Theatre and Film at Monash University (Australia), and then studied abroad at the University of Exeter (UK), making diverse short films along the way. Shortly after graduating in 2017, he founded his own film company – Melbourne Film Studio – at the age of 21. In 2019, the company name was changed to Shimashou.
Since then, he has collaborated with the Australian rock band, Cynation, to create critically successful works such as "Go Louie Go" (2018), "Anthem of the Damned" (2019) and "Lighter" (2020), which all received official selections across film festivals around the world. The hit music video "Cynation: Go Louie Go" (2018) won awards and received official selections in prestigious film festivals in Los Angeles, New York, London, Rome, Munich, and Melbourne.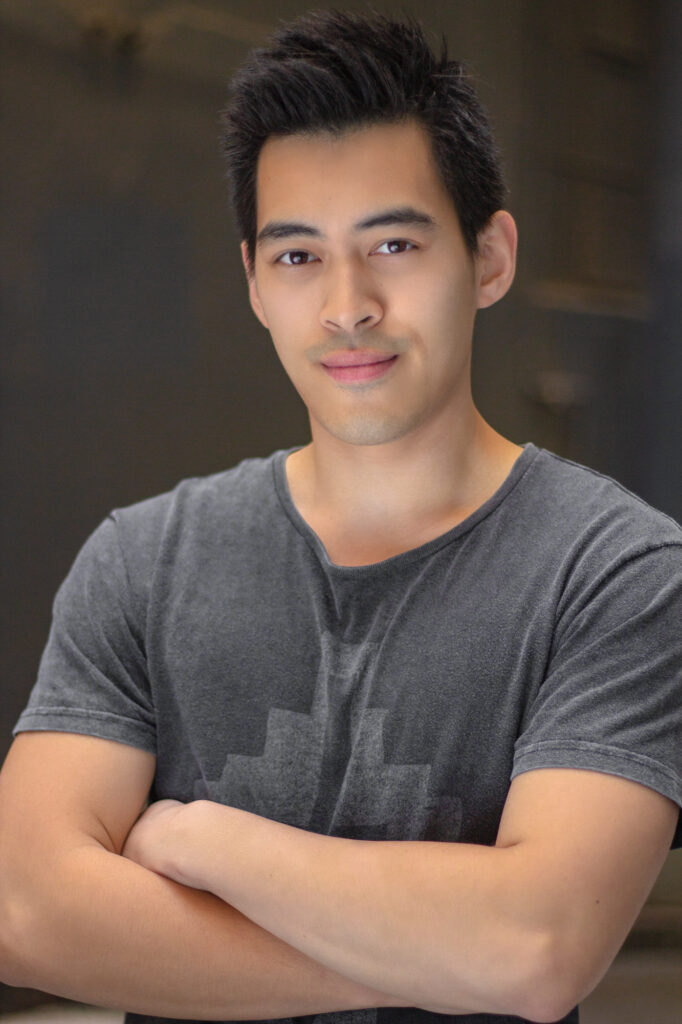 Cynation is a popular Australian rock band from Melbourne originating in Singapore. Its four members met in 1994 while in third grade. Since its formation in 1998, the Cynation band line-up has included Josh Mak (vocals and guitar), Simon Lai (guitar), Andrew Teo (bass) and in 2002 Shah (guitar) joined the band.
Aaron Mak has also directed the feature documentary, "Rise: From Independence to Immortality" (2018) which received official selections in London and New York, as well as the horror short, "The Seventh Month" (2018), which was a semi-finalist at a Los Angeles Film Festival, and received an official selection at a Horror Film Festival in Illinois.
Filmmaker Aaron Mak has received numerous accolades including "Astonishing Cinematography Award" for "Coffee Run" (2016, comedy) starring Josh Mak; "Outstanding Production Design Award" for "Joke's on You" (2015, thriller/fan-film) starring Aaron Mak and James Walker; and 2nd Prize Winner for "House Sitting" (2016, horror) starring Ashleigh Gray.
The official music video for "Cynation: Go Louie Go" directed by Aaron Mak, won the following awards: Best Film Award (2019) at the Phoenix Film Festival in Melbourne, Australia; The Rising Star Award in 2019 from the International Filmmaker Festival of New York (IFFNY); Best Music Video Award (2019) at the Asians on Film Festival in Los Angeles, California; Special Mention Award at the London X4 Seasonal Short Film Festival; Honorable Mention Award at the Kraut Film Festival in Munich, Bavaria (Germany).
In 2020, Anthem of the Damned directed and screenplay by Aaron Mak, won the Best Music Video award at the International Filmmaker Festival of New York.
Interview: Aaron Mak, a Multi-Talented Filmmaker Who Wears Many Hats
How do you view the actor – writer – director relationship?
I think these three roles work in tandem with each other, but none more important than the writer-director relationship.
I believe the heart and soul of every movie has to begin with the story, so if a director of a film is not also the writer, it's important to have a good relationship, communication and understanding between these two fields.
The director then acts as the conduit to articulate the heart and soul of the script to the actor for them to embody and bring to life, the story.
What are you writing these days?
It has admittedly been a rather quiet year for working on any bigger projects, however I have found myself scribbling away little short stories and the odd poem here and there. Whether these will ever be released on their own, or adapted into film, is something I'll certainly have to revisit.
Other than that, shopping lists I guess?
Congratulations on winning "Best Music Video" Award at the prestigious International Filmmaker Festival of New York for Cynation's "Anthem of the Damned". What does this award mean to you and the band?
Thank you so much, it truly was such an honour to receive this award from the prestigious International Filmmaker Festival of New York. It was a real milestone moment for us, winning our first ever award, and it's marked for us how far we've come, but also highlights the road ahead too.
The success of Anthem of the Damned in the film festival circuit has further cemented our belief that attempting to do something different and daring, pays off in the end – even if it means filming in an unforgiving, cold, windy desert with impending thunderstorms on the horizon.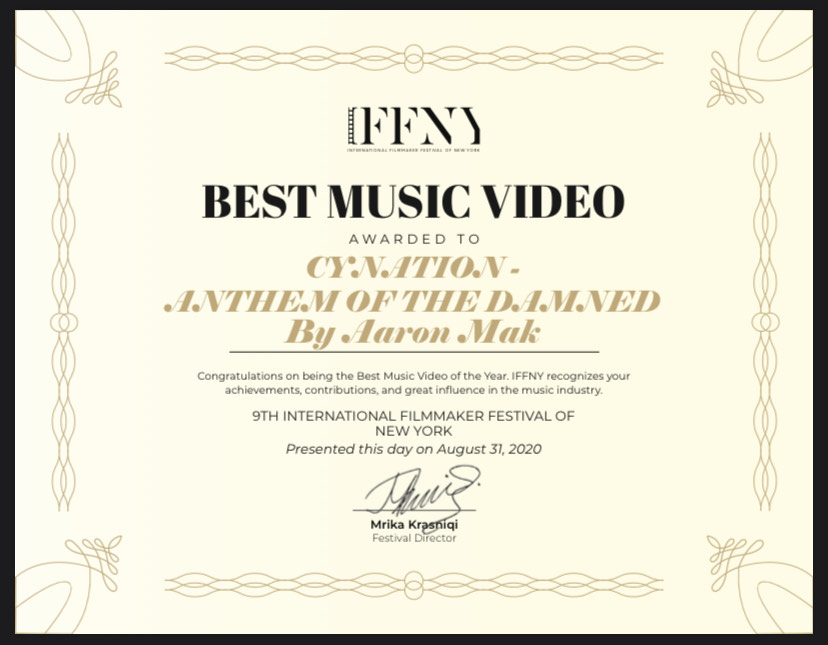 Is Cynation working on any new material?
There were plans for the rest of the band to come to Melbourne from Singapore for a gig this year, but those plans fell through with the… globally unforeseen circumstances.
With 2021 rolling over soon, plans are already underway for the performance to happen later in the year. Cynation frontman, Josh Mak, has been writing and composing a new orchestral piece which we intend to debut during the band's 2021 performance.
How has Covid-19 pandemic affected the artistic community in Australia?
I can't exactly speak for the rest of Australia, but Melbourne (and the rest of the state of Victoria) went into an extremely strict lockdown for most of the year.
This really limited a lot of artists and our ability to create and collaborate with each other. Filmmakers had a particularly hard time, but I do feel that many of us were forced to exercise our creativity and innovation by making the most with very little.
Were there any projects you were planning or would have hoped to have worked on this year, but couldn't because of the restrictions?
Other than not being able to have had the other members of Cynation come to Melbourne for a performance (which we were planning to film in the style of a concert experience), we were quite excited to film Cynation's fourth music film project.
There were some grand plans to film in the Australian countryside once again, and push the boundaries of subject matter and production scale further than we ever have. Although it was a shame that we weren't able to achieve this in 2020, we certainly have an even more exciting 2021 ahead of us.
How have you persisted with your creative practice given the unprecedented circumstances and restrictions this year?
This year, I wrote the script & directed a short film in our home, which was quite an interesting project given the restrictions placed on movement and gatherings.
It combined two elements that I'm quite familiar with – music videos and the horror genre – but with the added challenge of a one-man crew, a cast of two people and minimal film equipment. The short film is called "Night Gaunts", which stars Ana Hristenko and Josh Mak (who also composed the score of the entire short film).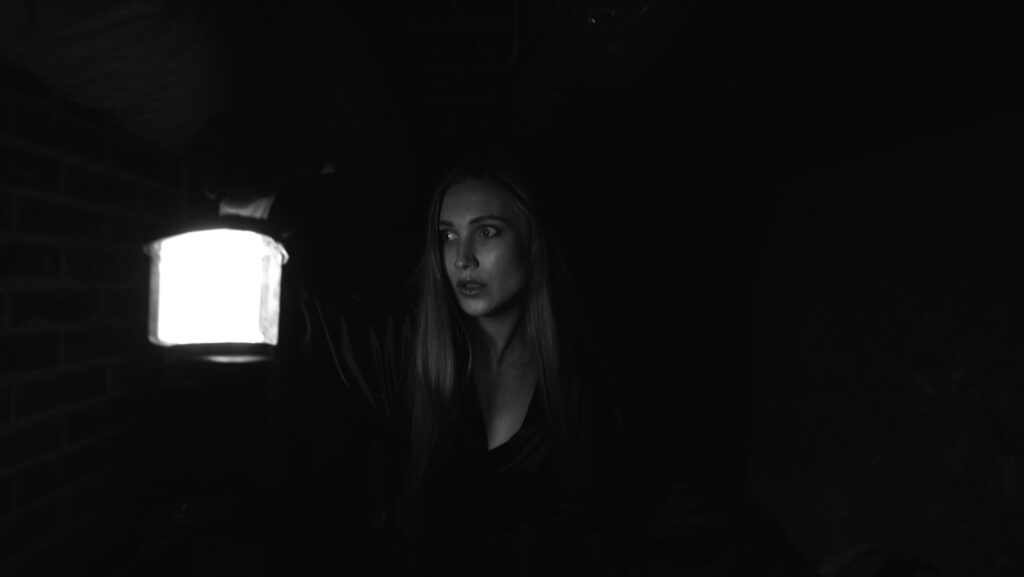 Which script of yours is a favorite and why?
There is a script that I began work on earlier in 2020, which is a concept short film for a story I intend to develop into a series. It's a story that's quite personal to me, and I found both a challenge and a liberation in writing it. The challenge was posed with writing a short form glimpse into a tale that could unravel into a wider world, but the liberation came in the form of being able to write about something very relatable to my past experiences.
What's in the future for your film studio in terms of goals and plans?
The idea is purely to continue creating and growing the scope of what we do, and constantly push ourselves with each project to aim for higher and more ambitious goals.
There are plans to go forward with shooting the concept film based on the script I wrote, and further developing a long form series from that. I would also like to continue collaborating with more artists to expand our repertoire and home each others' skills.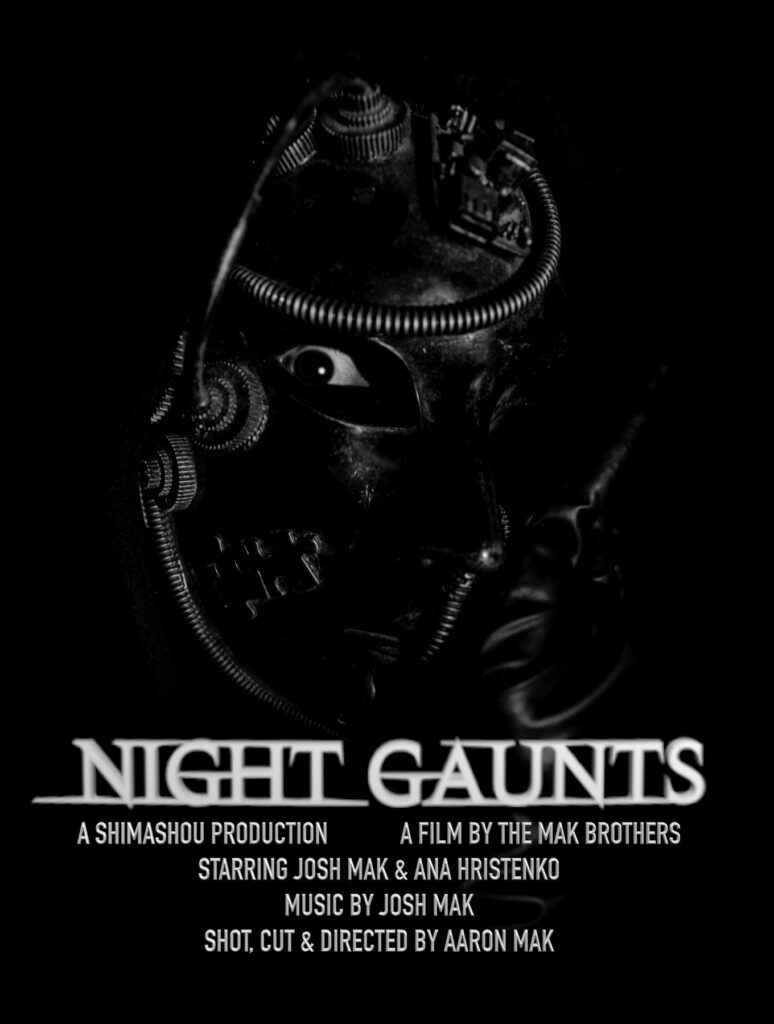 **Article Cover Photo Credit: Anthem of the Damned Movie Poster Photo, Design by Ross Gibson