Exclusive Interview with Li Xinxin -Producer
Producer Li Xinxin graduated from Library and Information Science Department of Northeast Normal University in 1990 and has been a senior researcher in Harbin Library since then. She worked as the producer in the following short documentaries: Silence and Survival (2013) ; Fire (2016) —the finalist in the 13th China Independent Film Festival ; History Disappears Here —the winner of Best Documentary Award at the 2017 Great Lakes International Shorts Film Festival; Wrapped An Identity Like A Coat (2019).—nomination for best short documentary at 2020 New York International Filmmaker Festival.
NY Glam: Tell us a little about yourself, growing up and your passions.
I'd been interested in films as early as possible. It's a window from which we can see the world and it's one of the best ways to understand people and life. I always think it's fantastic to be a filmmaker.
NY Glam: Did you have any specific influences growing up that lead you towards the film industry?
To be honest, as much as I love films, I know it requires talent, creativity and professional knowledge to make films. I don't think I can make it. But fortunately my life partner is a director. His passion for shooting films and perseverance in doing that make me moved. I finally decided to get involved. It's so great that we can make films together.
NY Glam: What are you currently working on?
We plan to make another documentary about the topic reflected in this film Wrapped An Identity Like A Coat. But we'll go further, digging deeply.
NY Glam: What were your main responsibilities on this film?
Apart from the preparatory work in the early pre-production, I mainly provide financial support in this film. Securing funds is essential when it comes to the whole filming project. I deeply understand that.
NY Glam: Can you tell us about your experience in working with the director and actors in this film?
I' m not an expert in any detailed aspect of film shooting and production. So I usually follow my husband's ideas. I definitely believe he is more professional and experienced than me. He is a person with deep insights and special perspective I'd like to say. But occasionally I may express my minds if I do think my ideas would be more constructive. For example, in this film, there is a lens image showing some photos of the Chinese-Russian descendants family members. The first time I was shown these photos, it was negative film. I suggested changing it to be positive. It turned out to be better in showing effect and reinforcing the theme.
NY Glam: What was the most important thing for this movie to achieve from a narrative and character standpoint?
Respectively speaking, the most important thing for the narrative of the film is to deliver the audience the story and the thematic concern through seemingly discursive cues by juxtaposing the historical events and the reality. From the character standpoint, they are expected to present what they experienced, to tell us a true story, the reality, which is the quintessence of a documentary film.
NY Glam: What other films have you produced?
I also engaged in other three short films. They are Silence and Survival, Fire and History disappears here.
NY Glam : What makes a film interesting for you? What are three qualities that you look for in a movie?
Film as a special type of art contains a very large expressive power and a very large amount of information, can give a free expression of the world. It covers other forms of art such as music, fine art, dance, drama and so on. Not other forms of art can compete with it .That's what attracts me most of films.
In term of qualities, I seek most in the film is that the film should deeply reflect on social issues of human beings so as to have an enlightening effect on the audience. Secondly, the pictures of my film should have a sense of beauty to give people visual enjoyment. Thirdly, in the era of new science and technology, the employment of new tech in making films is also one of the goals I endeavor to achieve.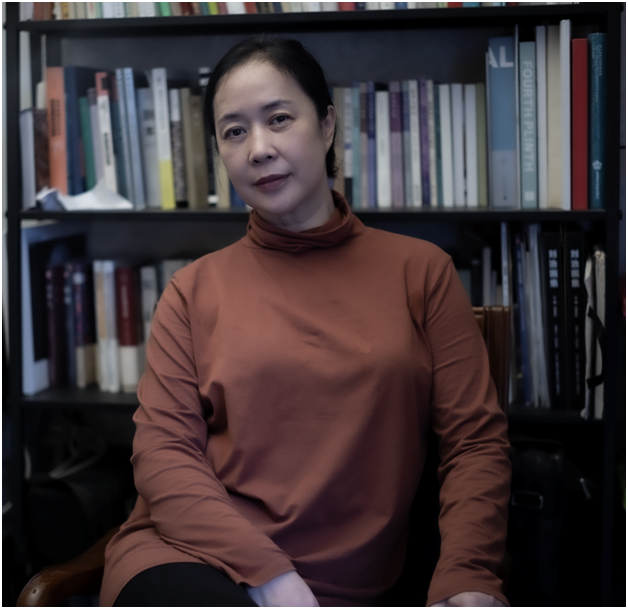 NY Glam: What project helped you launch your career?
My first documentary History Disappears Here gave me a lot of confidence and encouragement after winning Best Short Documentary Award at 2017 Great Lakes Shorts Film Festival, which made me very determined to go on in the film industry
NY Glam: What criteria do you use to select a script, screenwriter, director, etc.?
Now I mainly make documentaries to reflect social concerns. Then I need to take social attributes and the depth of the problem into consideration. So, I only choose those who meet this criteria, then we can work together to achieve the goal.
NY Glam: What are you most proud of? Describe your biggest accomplishment to date?
What makes me feel most proud is that my film was selected this time by New York International Filmmaker Festival and can be featured by you, such an amazing magazine, which will encourage me to move on and make more good works.
NY Glam: Do you have any upcoming projects that you're super excited about?
As I mentioned above, we plan to dig deeper into the subject of identity, and I think it's a great project, and it's always exciting
NY Glam: What advice would you give to someone who is aspiring to enter the film industry, especially as a producer?
What I would like to say to the young people who want to go into the film industry is that you should always be curious about the people and things around you, be sensitive enough, keep observing and thinking and try to practice your ideas by using different means. You should attach importance to the lens language and constantly explore the new language and any possibility of reflecting the tension of the work.
NY Glam: Can you discuss any future projects or direction you are taking in regard to film making?
Apart from another documentary with the subject of identity issue, we also plan to make a series of character interviews to explore the historical and cultural origins of Chinese-Russian descendants and to pay continual attention to the survival of this ethnic group.