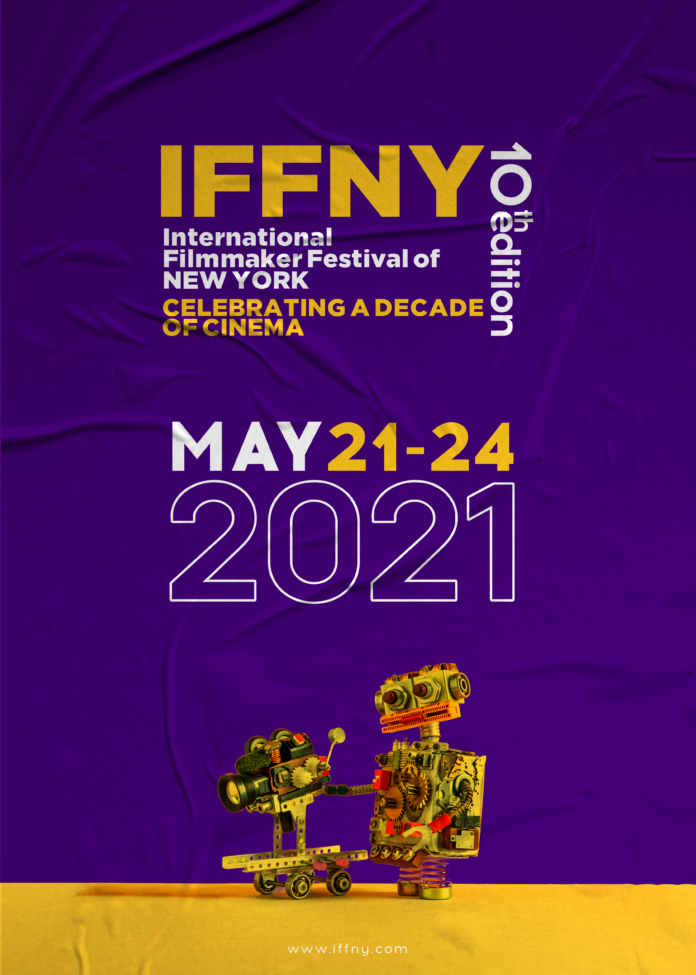 10th Edition of International Filmmaker Festival of New York (IFFNY), coming up this May 21-24 with 100 projects
The International Filmmaker Festival of New York is a global industry event held annually in the world's most iconic center of arts, New York City. Each year, the IFFNY festival brings to New York world premieres of films from around the globe, and gives the American audience unique opportunities to discover international cinema.
The mission of IFFNY Festival is to promote and aid the development of the international cinema and film authors. Our goal is to act as the main meeting point where international cinema converges in a spirit of cooperation and cultural exchange through the presentation of the finest and most recent achievements in world cinema.
Each year IFFNY presents Red Carpet screenings of feature, short and documentary films, followed by Q&A, workshops, reception with artists and organizers, VIP after-party and Award Night Gala.
The International Filmmaker Festival of New York is one of the leading platforms of international cinema, dedicated to artists who embody diversity, innovation and creativity.
Duo to the global situation with Covid19, IFFNY will be held online.
2021 Official Selection Results – 10th Jubilee Edition
-FEATURE FILMS
* INVISIBLE LOVE/ XIANG GUO / VIETNAM/ 1H 50min.
* KING OF THE PARTY / Salomon Askenazi/ MEXICO/ 1H 30min.
* JASMIN ROAD/ Warren Sulatcycky/ CANADA/ 2H.
* IN MY DREAM/ Murat Çeri/ TURKEY / 1H 40min.
* MOTHER OF APOSTLES/ Zaza Buadze/ UKRAINE/ 2H.
* LE CAFE DE MES SOUVENIRS/ Valto Baltzar/ FINLAND/ 1H 45min.
* RISED UP IN SOULS/ César Pérez Arboleda/ COLOMBIA/ 1H 11min.
* SENSATION/ Martin Grof/ UK/ 1H 36min.
* RIVER OF SALVATION/ Qisheng Gao / CHINA/ 2 H.
* THE LION ROCK/ Rosario Scandura/ ITALY / 1H 36min.
* BOLERO IN THE ELDER HOUSE/ Spartak Pecani / ALBANIA/ 1H 48 min.
* UTOPIA, THE MOVIE/ Gino Tassara/ PERU/ 1H 55min.
* FISH ALSO DROWN/ Robert Yun/ ISRAEL/ 1H 25min.
* WITHOUT SKIN/ Utan Hud/ SWEDEN/ 1H 40min.
-SHORT FILMS
*DEATH OFFERS LIFE – VAN GOGH/ Saheer Abbas/ INDIA/ 8min.
*FORGIVE ME, FATHER/ Jona Schlosser/ GERMANY/ 21min.
*HUMAN TRASH/ Aitor Almuedo Esteban/ SPAIN/ 16min.
*THE WOMAN OF THE HOUSE/ Felipe Espinosa/ SPAIN/ 13min.
*MY KIPPAH/Ilan Rosenfeld/ SPAIN/ 16min.
*HEIRS/ Txema Ballano/ SPAIN/ 15min.
*PRAGUE / Reda Mustafa / FRANCE/ 24min.
*STUFF/ Malu Janssen / NETHERLANDS/ 13min.
*SOYKA / Anastasiya Sergienya/ USA/ 15min.
*MOTHER NATURE/ Natalia Shaufert/ MOLDOVA/ 23min.
*ANTIOTPAD/ Tin Zanic/ CROATIA/ 18min.
*SOFT CREATURES/ Ivana Skrabalo/ CROATIA/ 20min.
*HAPPY HOUR KARAOKE/ Solax Zhu/ CHINA/ 24min.
*BRANCH/ Karim Goury/ FRANCE/ 8min.
*LUZ/ Emilio Torres/ CHILE/ 20min.
*PAINTING CLASS/ Yifei Song/ CHINA/ 10min.
*FIRST STOP/ Blai Baker/ USA/ 10min.
*LUCID DREAMS/ Adrii Didyk/ USA/ 5min.
*DISCOVERY/ Mikhail Saburov/ RUSSIA/ 7min.
*THUS BEGAN ANTOINE'S DOWN-GOING/ Paul Rigoux/ FRANCE/22min.
*MID LIFE CONVERSATIONS/ Maria Filippone/ USA/ 18min.
*LET ME IN / Jonas Solberg Rydningen/ NORWAY/ 10min.
*CYCLONE/ Austin Tsung-Fu Chang/ USA/ 12min.
*PRINCESSPROBLEMS/ Maritza Gomez/ USA/ 19min.
*GLASS CEILING/ Marta Soria/ SPAIN/ 10min.
*91 STEPS/ Larry A Manuel/ USA / 10min.
*MAUNGA / David J Strong & Wanda Lepionka/ NEW ZELAND/ 15min.
*DREAMING TANGO/ Frances Barth / USA/ 15min.
*BACK HOME/ Arber Krasniqi/ KOSOVA/ 10min.
*RULES OF ART/ Sabedin Selmani/NORTH MACEDONIA/ 20min.
*MATTY BOY/ Dr Shahid Kamal/ UK/ 14min.
*FIX/ Kevin Orzel/ USA/ 10min.
*KAAL TEEKA/ Jahnivi Mody/ INDIA/ 18min
*LIFE APPOINTMENT/ Amr Elbehidy/ EGYPT/ 30min.
*THE SHACK, AN ATMOS-FEARIC/ Dark Hoffman/USA/ 15min.
*SKILLEVEIENE/ Peter Bjerre Salling/ DENMARK/ 29min.
*FU/ Matthew McCracken/ AUSTRALIA/ 18min.
*IKTAM/ Natasha Mashkevich/ FRANCE/ 30min.
*A HARD GOODBYE/ Angel Andreu/ SPAIN/ 12min.
*SONJA / Ambra Cani/ ALBANIA/ 12min.
*FIRST DAY/Veon Jung Wook/ KOREA/ 14min.
* The GOD/ Ik Tae Shim/ KOREA/ 19min.*FAIR PLAY / Besnik Prekazi/ KOSOVA/ 10 min.
*TIAR/ Arturo Zuniga/ USA/ 12:53 min.
-FEATURE DOCUMENTARY
*WHAT IS GOING TO HAPPEN NEXT/ Matthew Nevin/ IRELAND/1H 10min.
*ON THE FRONT LINE/ Matteo Balsamo & Francesco Del Grosso/ ITALY /1H 22min .
*NO ROSES ON A SAILOR'S GRAVE/ Daniel Oron/CANADA/ 1H 23min.
*I WAS 10 YEARS OLD/ Velibor Covic/MONTENEGRO/ 60min.
*LOST IN MEMORIES/ Ruud Lenssen/ NETHERLANDS/ 1H 11min
*OUTSIDERS – THE FACES OF HOMELESSNESS/ Carlos Freire/USA/ 53min.
*BUILT LANDS/ Arturo Duenas Herrero/SPAIN/ 1H 21min.
*A BEEHIVE IN MY HEART/ Kjersti Vetterstad/ NORWAY/ 1H.
*ONE MORE JUMP/Emanuele Gerosa/ ITALY/ 1H 22min.
*DAMIEN/ Bobby Marno/ UK/ 1H 28min.
*CORCHED LAND/ Antonio Ferrer/ SPAIN/ 1H 10min.
*BRICOLEURS/ Hanna Volbeda/ NETHERLANDS/ 1H 8min.
*NEZO/ Merita Cocoli/ NORTH MACEDONIA/ 60min.
-SHORT DOCUMENTARY

*MAMMA/ Pablo Cires/ FRANCE/ 26min.
* BEYOND THE CITY SKYLINE/ Tom Franz/ USA/ 30min.
* DOWN THE ROAD/ A.W. Stevenson/IRELAND/ 13min.
* THE LAST LIGHTKEEPER/ Niamh Hayes/ IRELAND/ 9min.
* AS WE ARE PLANTED/ Anna Lee Ackermann/ USA/ 7min.
* PORTRAIT OF MY CITY BREATHING/ Vanessa Shah/ CANADA/ 5min.
*THE SHADOW OF THE RAIN/ Kenan Gurgurovci/ KOSOVO/ 21min.
*7 YEARS ART FROM BERLIN 'BRUCKENKUNST" /Gilbert Bruning/ GERMANY/ 20min.
– MUSIC VIDEO
* HOW LONG/ Matt Mahurin/ CANADA/ 3min 30 sec.
* BIG YELLOW TAXI/ Matt Mahurin/ CANADA/ 3min 28sec.*ALAMPA – STORM/ Artemy Ortus/ RUSSIA/ 4min.
* SEVEN DREAMS/ Kira Bursky / USA/ 3min 37sec.
* CLASS REUNION /Mihnea Cernat / Romania/ 4 min.*BEAUTIFUL WOUNDS/ Phil Gould/ UK/ 4min.
– ANIMATION
*THE WINTER/ Xin Li/ AUSTRALIA/ 5min.
*WITHER/ Nicolette Axiak/ AUSTRALIA/ 3min.
*THE LONELY ORBIT/ Frederic Siegel & Benjamin Morard/ SWITZERLAND/ 9min.
*LILIANA/ Milanka Fabjancic/ SLOVENIA/ 7min.
*THE JOURNEY WITH / Yo Kohatsu/ JAPAN/ 3 min.
*ON/OFF/ Nicolas P.Villarreal/ ARGENTINA/ 7min.
*WORLDS APART /Oliver Paterson/ AUSTRALIA/ 5min.
*ON / Jelena Sinik/ AUSTRALIA/ 2min.
*QUIET/ Marianne Bundgaard Nielsen/ NORWAY/ 6min 40sc.
*ONE OF MANY/ Petra Zlonoga/ CROATIA/ 5mi 32 sc.
*.COCKPERA/ Kata Gugic/ CROATIA/ 4min.
*SMOKING KILLS/ Jerca Oblak/ SLOVENIA/ 9min.
*DADDYDELPHIA/ Harold Eric/ USA/ 30min.
Selected: 100 projects
Countries: USA, UK, Canada, Australia, Germany, France, Austria, France, Romania, Sweden, Denmark, Israel, Albania, Kosovo, Montenegro, Slovenia, Croatia, Switzerland , Italy, Norway, Spain, Macedonia, China, Japan, Korea, Sweden, Belgium, New Zeeland, Russia, Ukraine, Moldova, Ireland, Netherlands, Vietnam, Mexico, Columbia, Peru, Brazil, Argentina, Chile, Egypt, Turkey and India.
Category 6:
-Feature Film, Short Film, Feature Documentary, Short Documentary, Animation, Music Video.
Awards for 2021:
*Best Feature Film
*Best Short Film
*Best feature Documentary
*Best short Documentary
*Best Animation
*Best Music Video
*Best Actor Award
*Best Actress Award
*Best Screenplay Award
*Best Cinematography
IFFNY JURY:
Sabrina Moreno
Larry Moore
Victoria Yakubov
Robert Haufrecht
Asis Sethi
More info:
www/facebook.com/iffnyfestival
www.instagram.com/iffnyfestival
twitter.comiffnyfestival